In Their Own Words:
Anna Jaeger, CFP®, Tyler Hutchison and Will Furlow
When you're just starting out in your career, it's essential you partner with a firm committed to building up your practice and your capabilities. We asked three of our newer Financial Advisors why they made the move to Baird and what they found when they got here.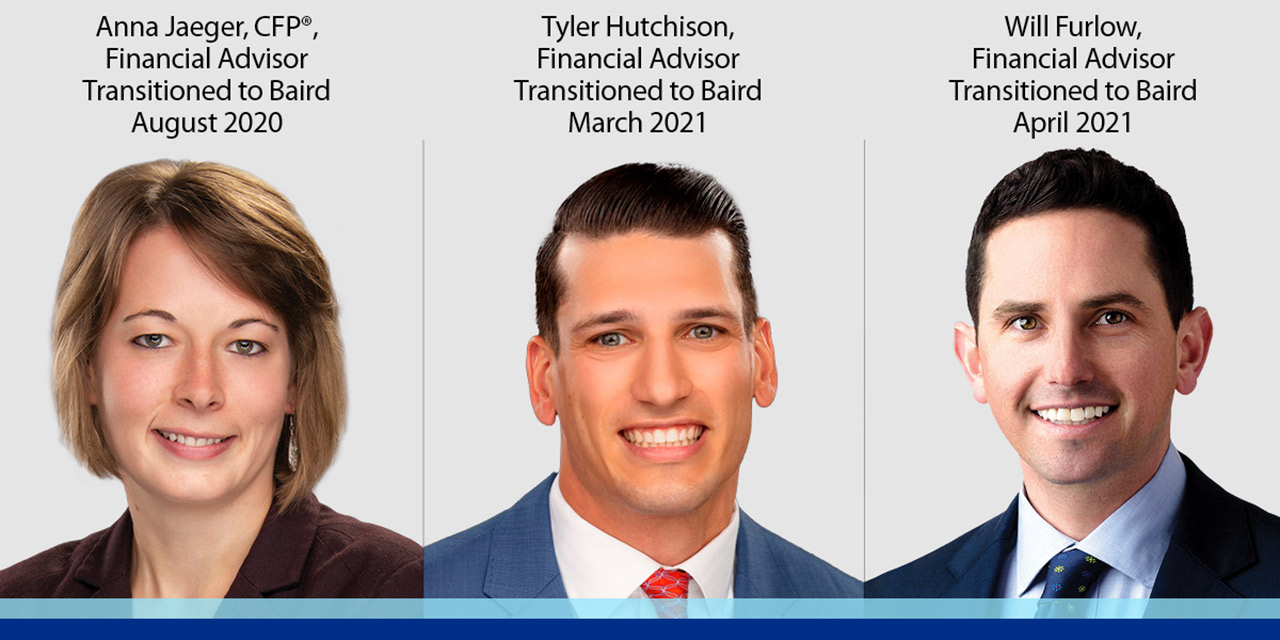 Click on the questions to read the responses in their own words.
Tell us a little about your background and what drew you to the financial services industry.

Anna: "I've always been into numbers and puzzles, but I knew I wanted to be helping people too, and not just staring at spreadsheets all day. Wealth management was a natural fit for me, so I joined the operations team at an RIA, earned my CFP® and became a Financial Advisor."

Tyler: "I've been fascinated with the financial markets since high school and was able to learn more about professional wealth management through family and close friends. As I learned about in-depth financial planning and the ability to be my own boss inside the structure of a larger firm – this was very enticing for me."

Will: "I began my career in the U.S. Army Special Forces, where I served for five years. When I left the service, I wanted to start a career that gave me some degree of autonomy and flexibility while still helping people. That led me to asset management and wealth planning at one of the big wirehouses, which ultimately led me to Baird."

What about Baird appealed to you, compared to other firms in financial services?

Anna: "The first thing that stood out was that Baird created a true support system. If I have questions, I can literally walk down the hall or call someone on the phone and get an answer right away – no call tickets, no voice mails that don't get answered. Not only that, but people come to me for my opinion! It's so refreshing that I have a voice here and can contribute."

Tyler: "When I was making a decision amongst firms, I knew I no longer wanted to be at a larger wirehouse, but at the same time needed to land at a firm that could address any of my clients' financial needs. At Baird, I can simply act as a fiduciary and an advisor for my clients. I don't have to also be a banker, a mortgage lender, or worry about opening credit cards."

Will: "Maybe it's a holdover from my military training, but I like that decision-making is more localized at Baird. It's a smaller, more nimble firm that's open to a new idea if you can make a case for it. It's also a flatter organization, where I can call anyone in top leadership and tell them something, and they'd take it to heart and even call me back."

What were the deciding factors that ultimately led you to join Baird?

Anna: "I was impressed with the flexibility of Baird's business model. If a brokerage or a different product makes more sense to a prospective client, I can do that now. That flexibility has been instrumental in growing my business."

Tyler: "Baird provides tremendous support in growing my business and in my continued professional development. Not only does the firm provide encouragement in attaining my CFP®, they're reimbursing the cost of the program and offering a bonus upon completion. Even with all the resources of the larger wirehouse I came from, you'd rarely receive that level of support."

Will: "The credibility of the brand, especially as someone who is still building his practice. When you're (1) just starting out, and (2) at a firm that's in the headlines for the wrong reasons, you already have two strikes against you before you can even take a swing. Baird has such a positive reputation that I've found I'm already 'pre-vetted': Potential clients see that I work for Baird and say, 'OK, I know I can trust him.' That makes it a lot easier to build trust and start talking about their needs."

What would you want other younger Financial Advisors contemplating a move to know about Baird?

Anna: "I know every firm talks about culture, but I've found you don't consistently feel it at other firms. You feel it here. The fact people spend multiple decades in their career here speaks to what an incredible place Baird is. I was looking for a place where I could put down roots, and the fact that I can build my business the way I want makes me think Baird can be my long-term home."

Tyler: "If you're at a larger wirehouse and haven't at least had conversations with other firms, you might not even know what you're missing. Financial planning is extremely important to me – Baird's technology allows me to do this at a more granular level than I could previously. Combining this with direct access to experts in various fields, such as alternative investments and complex estate-planning, creates the support that I need to grow my business in today's competitive landscape."

Will: "For me, Baird threads the needle in terms of size – it's big enough to have really good resources in areas like estate planning and tax analysis, but small enough to be flexible in how it approaches problem-solving. Plus it has a culture that is highly competitive and committed to excellence without becoming impersonal. I call it 'a caring financial partner with an institutional pedigree.'"
"I was looking for a place where I could put down roots, and the fact that I can build my business the way I want makes me think Baird can be my long-term home."

Anna Jaeger, CFP®