Skip to primary content
Baird has provided investment and management advice to our clients since 1919. We add value to our client relationships through investment management and consulting, strategic asset class rebalancing, and taking a hands-on, active approach to managing your investment portfolios.
We are dedicated institutional consulting experts specializing in servicing foundations, endowments, certain trusts, pension funds and defined benefit plans. We provide objective advice and tailored solutions with a full understanding of each client's unique mission and goals. Baird's commitment to teamwork, integrity and keeping our clients' interests first is founded on core principles that have guided our philosophy for over 100 years.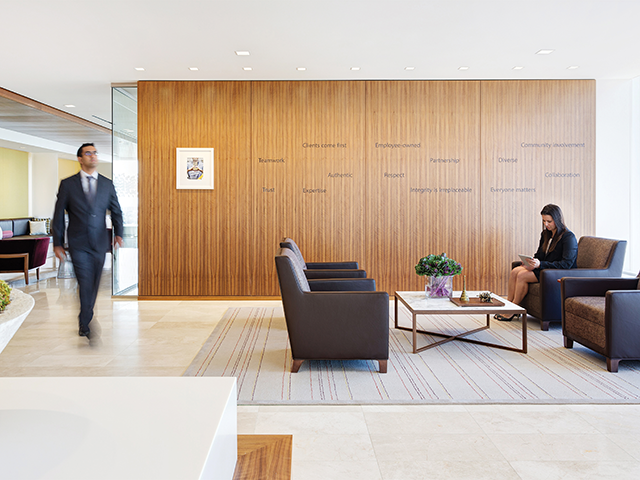 Our responsibility to your constituents guides every decision we make and serves as the ongoing inspiration to create exceptional outcomes for our clients.
– Kathryn Nusbaum, CFP® CPA
"To provide the best financial advice and service to our clients and be the best place to work for our associates."
– Paul Purcell, Former Baird Chairman
Our Commitment
We tailor our relationship based on what's best for our clients, period. Because Baird is a private, employee-owned firm, you can trust that our measure of success depends on the results we achieve for you.
FLEXIBILITY - We offer custom investment advice. We always maintain a fiduciary relationship as an Investment Advisor regardless of if we have discretion or not and whether assets are held in custody at Baird or at an outside organization.
OBJECTIVE INDEPENDENCE- We don't recommend proprietary products. All investment advice is provided as an independent, unbiased fiduciary and made with the conviction that it is in the best interest of the client.
TRANSPARENCY - We pull back the layers of expenses in each portfolio, so the total fees and expenses incurred by the client are transparent and well understood.
Our Benefits
Ongoing consultation with Baird Financial Advisors
Access to qualified, unbiased investment managers
Discretionary/non-discretionary investment management
Investment policy development and ongoing review
Asset allocation development and oversight
Manager and investment style advice
Quarterly performance reporting
Ongoing money manager due diligence
Securities custody and safekeeping when needed
Board training and best practice recommendations
Dedicated client service team
Our Approach
An Investment Philosophy That Reflects Your Values
Our experience offers critical guidance on best practices for properly executing the duties of a fiduciary and aligning your goals to an investment strategy. By engaging in a proactive, collaborative partnership, we can tailor services to provide flexible solutions that reflect your values—equally as important as managing the assets.
Through every step of the investment advisory process, we listen, provide objective advice and execute strategic plans to achieve the best outcomes for your organization.
How We Work
Investment Philosophy
Focus on risk-adjusted return
Provide customized advice
Incorporate both active and passive investment strategies based on needs and circumstances
Focus on performance over a full market cycle
Strive to mitigate downside risk
Ensure investments align with the mission and values of the organization
Investment Approach
Provide customized, client-centric solutions—we do not believe in a one-size-fits-all approach
Blend different investment strategies to enhance risk-adjusted returns over time
Partner with qualified managers ranging from small boutique firms to large, global asset managers
Provide consistency and discipline through ongoing assessments of our processes
"Though each of our clients is unique, the process we take is consistent: Identify what your priorities are and work out the best way to achieve them."
– Paul Purcell, Former Baird Chairman
Our Investment Process
We begin by understanding your mission and goals, current investment situation, risk tolerance and time horizons in key areas:
ICS Client
Investment Policy Statement Development
Establishes the investment practices of your asset allocation strategies and incorporates objectives, performance evaluation, management guidelines and asset allocation/diversification policies.
Investment Product and Manager Selection
Our dedicated asset manager research team identifies investment opportunities, understands the story behind the numbers, recommends managers and monitors management performance.
Ongoing Management, Reporting and Collaboration
Provides clear and transparent performance reporting, strategic asset allocation rebalancing to meet your goals, and regular counsel on major financial and strategic decisions.
The Baird Way
The Baird Way guides who we strive to be every day for our clients, for each other and in the communities we care about. Our success in business depends on the strength of our relationships, which are built on a foundation of trust.
Putting the Best in Class To Work for You
We attract the financial industry's top talent—passionate professionals who consistently earn successful results and accolades for their work.
Ranks No. 13 on Fortune's 2020 100 Best Companies to Work For®, a recognition received annually since 2004
Repeated No. 1 rankings for overall quality in corporate access and research from Greenwich Associates1
Repeat honors for equity research analysts from The Wall Street Journal, StarMine 2 and Financial Times
A Century of Practice Demonstrates Our Mission
Baird is a diversified global financial services company providing private wealth management, asset management, investment banking, private equity and institutional research, sales and trading services to clients in the United States, Europe and Asia.
Strength in Numbers
Founded in 1919; headquartered in Milwaukee, Wisconsin
Member of the New York Stock Exchange since 1948
More than 160 offices globally
Approximately 4,500 associates
Client assets over $300 billion as of December 31, 20193
Conservatively leveraged and well-capitalized, with shareholder equity in excess of $1 billion
Employee-owned and independent; over 62% of Baird associates are shareholders in the company
1
Greenwich Associates North American Equity Investors – U.S. Small-/Mid-Cap Funds and U.S. Equities Sales, Corporate Access & Research, May 2019. Survey conducted with 100 small-cap and mid-cap fund managers and 169 fund managers and 269 traders, respectively.
2
Rankings for qualitative metrics based on leading research firms in survey. Financial results do not reflect the consolidation of certain private equity partnerships.
3
Assets as of December 31, 2019 and include Hilliard Lyons and Hilliard Lyons Trust Company.